South Florida Art Conservation and Restoration
Events calendar
Jose Alvarez artworks will be on exhibit at the...

more info
Welcome to our site!
And welcome to our workshop! Call us to schedule an appointment to visit our installations or for a free consultation! 561 557 4036 or 561 254 5887
Art Conservation
and
Art Restoration
services to Museums, Private Collectors and Art Dealers. Our experts will
repair
any damages found in your artworks. Our services include, among other things,
painting cleaning
,
paper restoration
,
tear repair
,
sculpture cleaning
, maintenance and
object repair
. You can also count on us for
Art Consultations
, to determine the degree of the damages and
Conservation Assesments
to have an estimate of the cost of the restoration treatment.
more...
Services : Conservation and Restoration
In South Florida Art Conservation we offer services ranging from simple cleaning to full restoration of damaged artworks.
We also provide assessment to institutions and insurance companies in collections management, and conduct on-site condition reports and conservation / restoration treatment proposals for large collections and oversized projects. Our main specialization is the conservation/restoration of damaged artworks.
Latest posts
Brushes are the most important tool for…

Read more

The ethics of the inpainting process, mediums…

Read more

Paraprint washing explained: A preferred technique of…

Read more

Tape stain removal is a tedious task…

Read more

Last week we have been honored with…

Read more
Store Hours
Monday to Friday, from 9.00 am to 5.00 pm, by appointment only. Call us at 561 557 4036 or 561 254 5887. We are located at 500 Palm St. # 35, West Palm Beach, FL 33401. One block from the Norton Museum.
For directions, click here.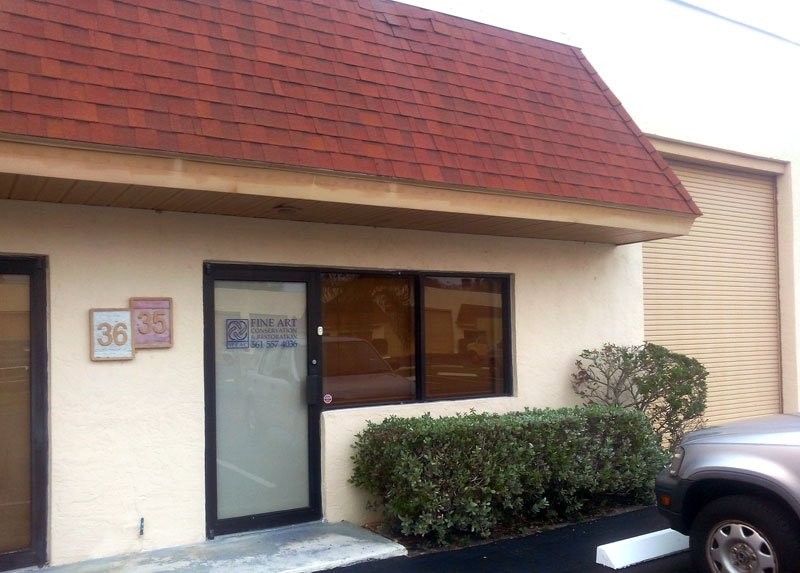 Paintings on display are continuously collecting dust and grime as an effect of the environmental conditions. These accumulations easily entrap and release moisture causing continuous fluctuations of humidity that weaken the canvas and alter the structure of the painting. In these cases you'll need to hire a conservator to restore the painting to its original state, performing tasks as painting cleaning, structural consolidation, inpainting, etc. Other services offered by South Florida Art Conservation are Art Consultation and Conservation Assessments. We help collectors to determine the condition and degree of damages in an artwork prior to any acquisition. Also we provide museums and collectors with guidelines to prevent and slow down the deterioration processes occurring in their artwork, and finally, we assess the value of the cost of the restoration of any damaged piece. To learn more about painting cleaning and restoration, deterioration processes, cost of restoration treatments, condition assessments, collection maintenance, etc., contact us at South Florida Art Conservation LLC. We are P.A. of the American Institute for Conservation of Historic and Artistic Works
Museum trained and college educated, the members of our team have been continuously working in the conservation field since 1985, and have been serving the Palm Beach area since 2003. Come meet us! We are located at 500 Palm St. # 35, West Palm Beach, FL 33401 See us in the news: